Vaping News - Should pregnant female smokers resort to vaping?
Posted on
Is vaping better for pregnant women when compared to smoking?
The UK Centre for Tobacco and Alcohol Studies, which includes 13 universities, will be assessing several hundred women in a study, which will be carried out next year. They will see whether or not vaping can assist pregnant women smokers who are trying to quit, break the habit. Their children will be checked until the age of two to see whether or not they were harmed, and how vaping affected their development.
Current studies:
A study which was made public last week, reported that vaping is bad for our cardiovascular system, similar to smoking, as it also stiffens the main blood vessel in our body, however it has been said that nicotine causing arterial stiffness is no big news as this stiffness is also caused by other things such as caffeine and coffee.
Alternatively, tests carried out by other organizations in the UK found that vaping is far safer when compared to smoking. A report published by Royal College of physicians shows that vaping is at least 95% safer than smoking tobacco.
More research and information is urgently needed:
Currently almost 10,000 smoking pregnant women in the UK are being told to use NRT products, however the new advice is that midwives should not discourage them from using vaporisers & other vaping products, as these can be helpful to avoid regular smoking.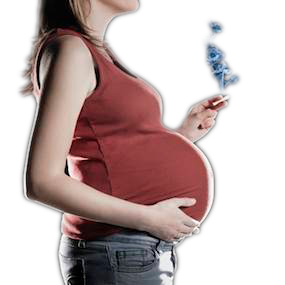 If you need anymore information regarding quitting smoking while pregnant, please visit the link below:
http://www.nhs.uk/conditions/pregnancy-and-baby/pages/smoking-pregnant.aspx