From just 75p each including UK mainland delivery!
Vape Fans - the newest & most fun vape promo item around!
Take the Vape Fan from it's pouch and it automatically pops open with a surprising, attention grabbing effect!
This practical hand held fan efficiently clears & disperses vapour clouds when needed. Great for either home use or for more discreet vaping in public places.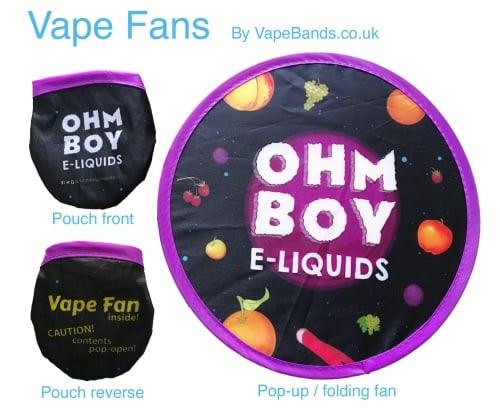 Custom printable with your own logo, brand or message, Vape Fans are ideal for the following marketing uses;
• Expo giveaways & handouts.
• Brand awareness.
• Product launches.
• Traffic builders - for promoting visits to your site or social media platforms.
• Shop openings & advertising.
• Or sell your customised Vape Fans as a novelty retail item.
Highly visible to ensure your message will be seen by the right audience while in use. People can't help but look!
And after use, Vape Fans just fold away and are stored in their own, pocket-size pouches.
With CE safety testing and a choice of colours and print styles, everyone will want one of your custom printed Vape Fans - and they'll all be spreading your message!
TIP! They also work great as indoor/outdoor frisbees - bringing even more fun and attention to your brand.
To visit our shop - click here. Samples available for business customers on request - click here.
Artwork submission specs and Order Guide - click here.