About Custom Vape Rings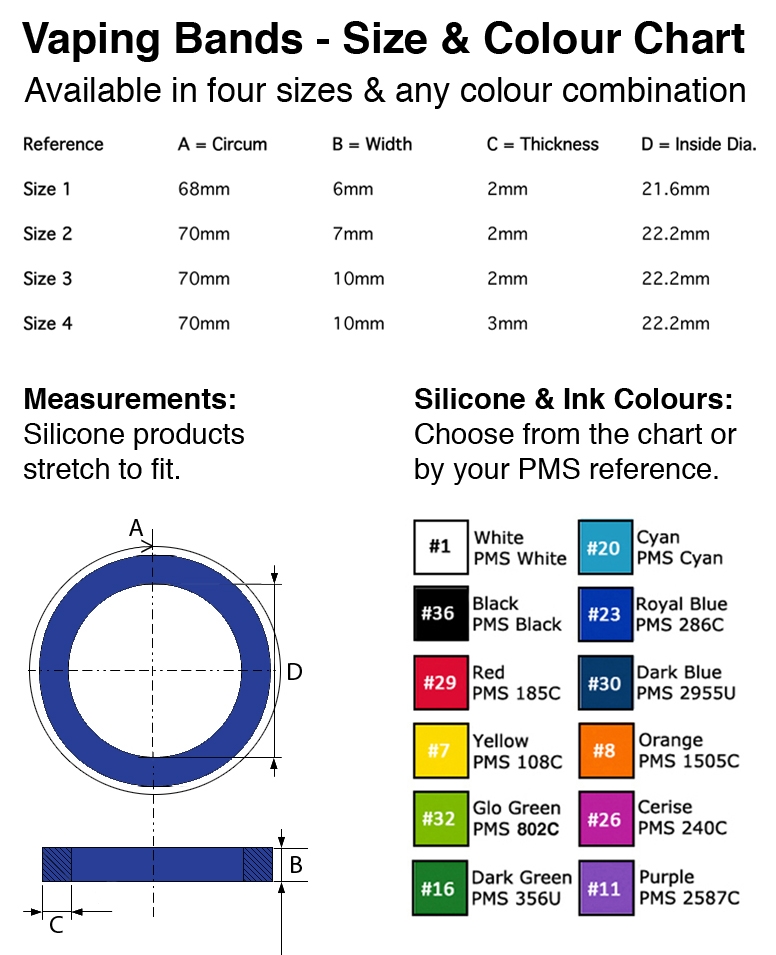 Silicone Vape Ring Tank Bands
Our custom printed vape tank bands come in a vast range of sizes & we can Pantone match any colour of silicone or ink.
Custom vape tank bands are perfect for establishing a brand name for your vape store or e-cigarette company.
We also supply custom printed silicone wristbands & silicone adloop keyrings - get all 3 and receive a great promotional package for your vape store.
Print your custom vape tank bands with your logo & brand name to create a great promotional tool that will get people talking about your business.
With small quantities of custom vape bands available, we can produce as little as 100 pcs!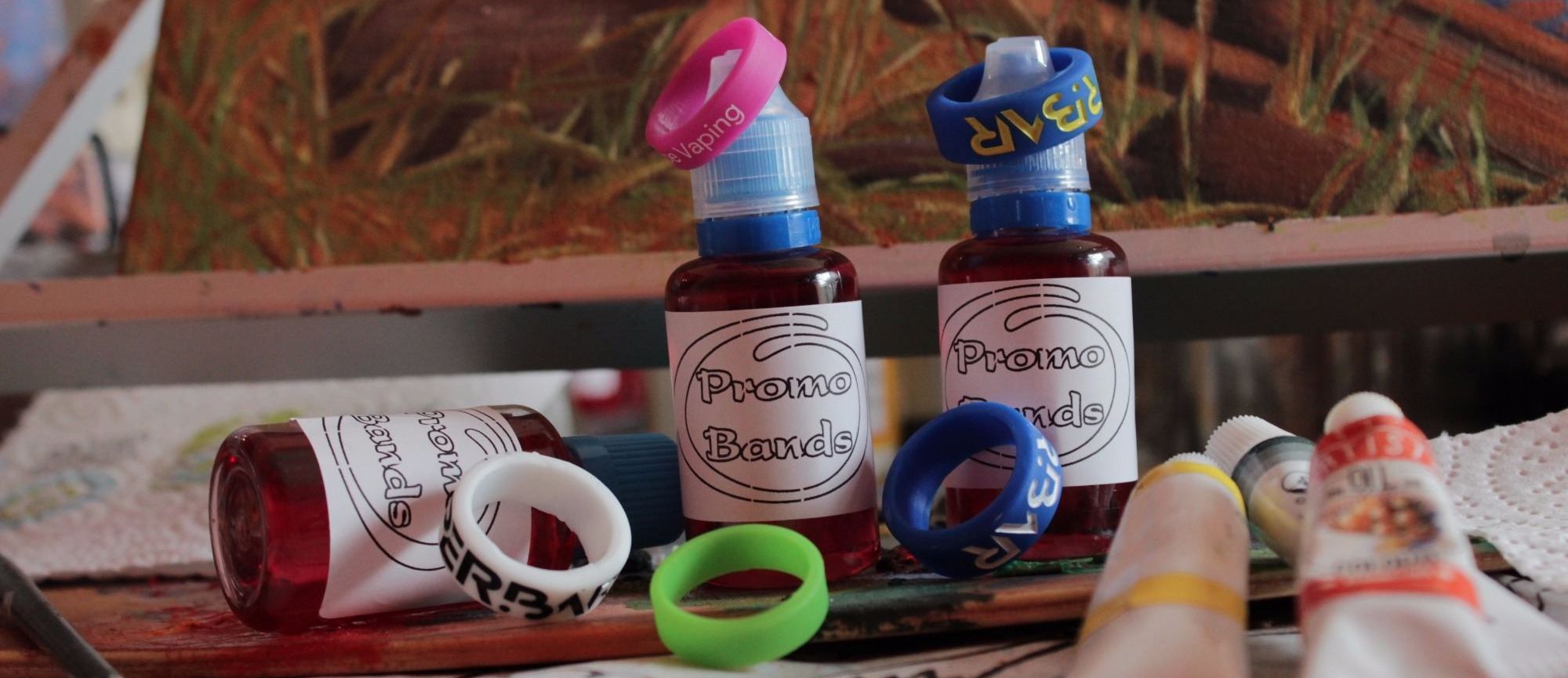 What is a Custom Silicone Vape Ring?
A vape ring, (or vape band), is a silicone band used to protect your vape pens tank or e-juice / e-liquid bottle & with this new product being fully embraced by Vapers - it makes an ideal promotional item.
Vaporiser's glass tanks & atomisers can be extremely fragile & so greatly benefit from this protection.
Help avoid the frustration of broken tanks & e-juice bottles, caused by dropping, knocking & transporting and at the same time, promote your business & brand to the right audience, in a highly visible way.
How to use custom printed silicone Vape Rings?
Vapers often use glass tanks as plastic alternatives may react badly to the natural acids in some e-liquids. With glass tanks, any e-liquid can be used but they are unfortunately more brittle. And this is where silicone vape rings can really help in a practical way, by reducing the risk damage. So Vape Bands are justifiably embraced by your target audience.
As such, it makes good sense to offer the item carrying your own brand or shop name, as a promotion that will be noticed by other vape customers.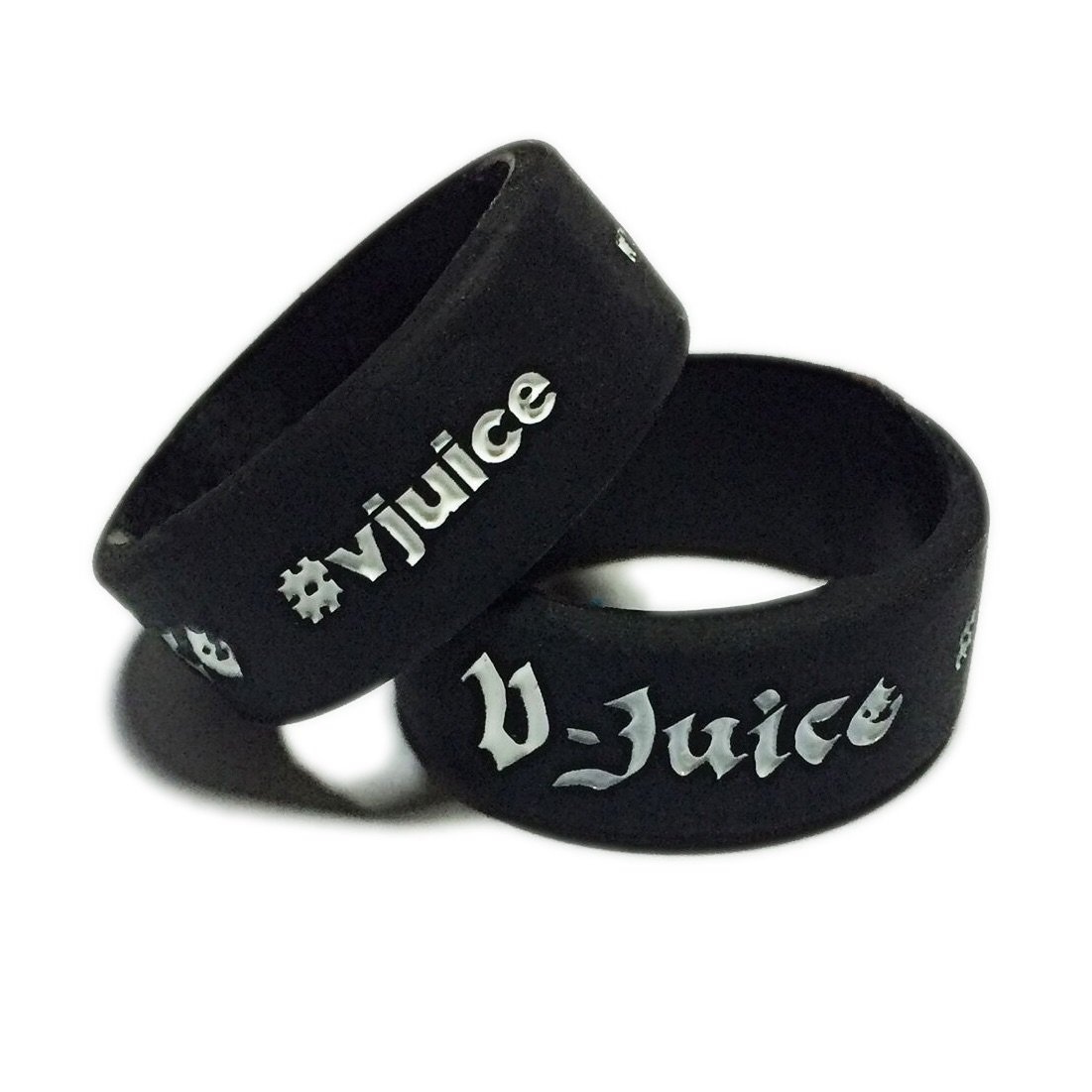 Our custom vape tank bands uk have been embraced by large brands & stores aiming to advertise themselves in the best way possible, these companies include: V-Juice, Ape Vaping, 53Vape, Vapers Co, Vapour Evolution & many more.
With many years in the custom printing business, we have gained great knowledge of our products and always aim to help our customers get the most out of their advertising budget.
Customisable Silicone Vape Rings
Customisable Silicone Vape Tank Bands look amazing whilst also being extremely useful - protecting vape equipment and promoting your brand. We supply high quality silicone rings that are completely customisable with your own design / logo, just send us over your design details and our designer will produce a visual for you right away.
Vape Tank Bands can be used as a silicone finger ring as well, when splitting your order between multiple colours you can get a great rainbow effect which is perfect for promoting Rainbow Pride LGBTQ events or companies.
Vape Bands can of course be used as thumb rings too - great for advertising your brand on thumbs whilst texting!
We have many different sizes, colours and effects available for customisable silicone vape tank bands, silicone vape rings or silicone thumb bands / finger rings - we have 1/2 inch silicone rings, 1/4 inch silicone rings, all the sizes in-between and many more, we can even make special sizes on request!
We can Pantone colour match any colour needed, which is perfect for those hoping to sustain a clean brand image - we also have an enormous library of fonts and lots of clip art for you to choose from if you're currently without a design of your own.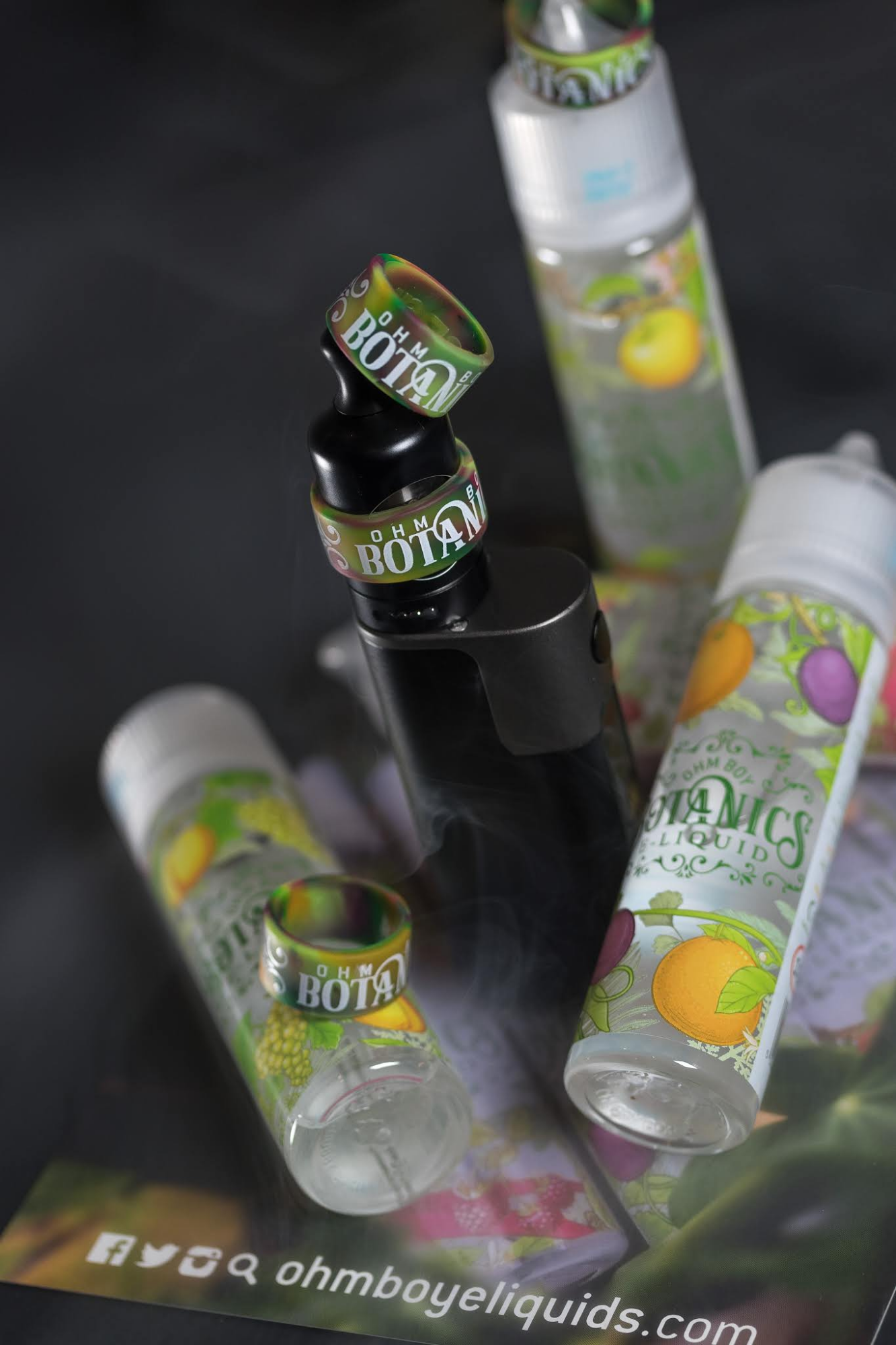 We have many styles and effects for you to choose between, these are:
Debossed - This is when your design is engraved into the surface of your band.
Debossed & Infilled - This is when your design is engraved into the surface of your band and filled with ink. (This looks great and also protects your ink from everyday wear & tear!).
Embossed - This is when your design is raised from the surface of your band.
Embossed & Printed - This is when your design is raised from the surface of your band and printed with ink. (This really makes your design stand out!).
Screen Printed - This is when your design is screen printed onto the surface of your band. (This is free and included within all of our orders).
Segmented Silicone - This is when your silicone is split up into segments of different colours. (Perfect for those who want to create a rainbow pride of flag effect!).
Swirled Silicone - This is when your silicone is mixed with other colours to create an awesome swirled effect. (This can be used to create a trippy looking space style!).
Glow in the Dark Silicone - This is when your silicone is mixed with a special powder which makes your bands glow in the dark after being exposed to UV light. (Perfect for festivals, events or parties!).

Vape Bands make great conversation starters and always result in people talking about the business being displayed.
Many people who vape, enjoy decorating their equipment with the latest vape tank bands, so you are assured that your advertising budget has been well spent.
We offer custom silicone vape rings in various sizes & with a selection of decor options including debossing, embossing & printing.
Debossed designs appear engraved into the customised silicone vape ring and can then be infilled with ink.They look great and provide a longer lasting finish.
Orders can be placed online and you'll see a visual to approve prior to production.
Then, with payment & approval attended to, delivery will be just days away. And don't forget to check out our newest vape promotion - Vape Fans!

Vape rings are practical, fun and make great economic sense as part of your company's marketing mix.
Contact us and our professional UK designers will produce you an online visual, for your further consideration.
Then, should you wish to proceed with ordering your custom vape rings, we just require your approval & payment to get things underway.
Then sit back and in no time at all your vape rings will be delivered.
If you want to know more about our custom vape rings, please contact us via the following link & we'll be happy to help you.
VapeBands.co.uk.